Wireless Industrial Thermocouple and Pt100 Probe Assemblies
£242.00 UWRTD-NB9-1PT316-M30-300

Free Software Converts Your PC Into a Real-time display, Multi-Channel Chart Recorder or Data Logger
Complete Industrial Assembly Includes: Probe, NB9 Head with Built-In Wireless Transmitter and Long Life Battery
½" BSPT (R½) Process Fitting Standard
½" or ¼" BSPP (G½ or G¼) Process Threads Available - See part builder below.
Wireless Sensors, Transmitters, Receivers, Meters & Controllers - View related products
Description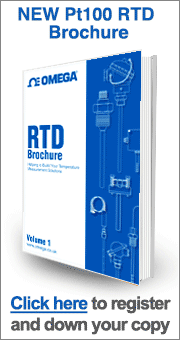 Omega's Wireless Industrial Thermocouple and Pt100 assemblies feature a complete, ready to install, temperature sensor and in-head mounted wireless transmitter. Each battery powered wireless unit will transmit measurements back to a host receiver up to 120 metres away. Each transmitter comes pre-programmed to operate as a Type J, K, T, N, E, R, S, B, C thermocouple or Pt100. When activated the unit will transmit readings continuously at pre-set time intervals to a host receiver. Each probe measures and transmits: process temperature, ambient temperature, wireless link signal strength and battery condition.

The UWTC-REC1 host receiver connects to a PC via a USB port and will work with up to 48 thermocouple and Pt100 transmitters. Software supplied with the receiver allows the PC to be used as a 48 channel real time display, strip chart recorder or data logger so readings can be saved and later printed or exported to a spreadsheet file.

The UWTC-REC3 wireless receiver connects to a PC or LAN via an Ethernet port and will work with up to 32 thermocouple and Pt100 transmitters. This receiver serves active web pages to display real time temperature readings and charts. You can also log data in standard data formats for use in a spreadsheet or data acquisition program such as Excel or Visual Basic. OMEGA offers a free, user-friendly program for logging data to Excel. OMEGA also offer an OPC Server application that makes it easy to integrate the UWTC-REC3 with many popular data acquisition and automation programs.

Specifications
Thermocouple Types:
J, K, T, N, E, R, S, B, or C. Contact sales for details and pricing on types R, S, B, C and E.
Platinum RTD Types: DIN Class A Pt100 standard. Pt500 and Pt1000 available on request
Thermocouple Measurement Range:
J: -100 to 760°C
K: -100 to 1260°C
T: -200 to 400°C
N: -100 to 1260°C
E: -200 to 1000°C
R: 260 to 1760°C
S: 260 to 1760°C
B: 870 to 1820°C
C: 0 to 2315°C
Pt100 Measurement Range: -200 to + 600°C
Thermocouple Measurement Accuracy:
Type J, K: ±0.5% of reading or ±1.0°C, whichever is greater
Type T, N, E: ±0.5% of reading or ±2.0°C, whichever is greater
Type R, S, B, C: ±0.5% of full scale
Pt100 Measurement Accuracy: ±1.0°C from 0 to 400°C; ±2.5°C below 0 and above 400°C
Measurement Resolution:
1°C for Pt100 and all thermocouple types
Cold Junction Compensation (Automatic):
-10 to 70°C
Battery Life (Typical):
3 years (1 sample/minute read rate @ 25°C)
Process Connection Thread:
R½ (½" BSPT) Standard, G¼ (¼" BSPP) or G½ (½" BSPP) optional.
Approx 12 mm of tapered threads is included in the sheath length.
For parallel threads the sheath length is measured from the base of the hex.


† All amounts shown in EUR, GBP, or USD
Note: Because of transmission frequency regulations, these products may only be used in Europe, the United States, Canada and Singapore

Transmitter/probes supplied with one 3.6 V lithium battery, antenna and user manual.
REC1 and REC2 receivers are supplied with USB cable and Windows software
REC2 and REC3 model receivers are also supplied with an ac power supply.
Ordering Example: (1) UWTC-NB9-CASS-M60U-300 Type K wireless industrial thermocouple assembly. 6mm dia. 300 mm long SS sheath. 1/2, £253.00 plus (1) UWTC-REC1 48-channel receiver with USB interface, £269.00, £253.00 + 269.00 = £522.00

Part Number Builder
Build Your Part Number Below
Option Descriptions:
(1) Sensor Type
select from:
RTD
for Pt100
TC
for Thermocouple
(2) Sensor Sub-Type
select from:
1PT
for Pt100 DIN Class A
CA
for type K
IC
for type J
CP
for type T
NN
for type N (Inconel sheath only)
(3) Probe Sheath Material
select from:
316
for 316 SS sheath (for Pt100 probes only)
SS
for 304 stainless steel
IN
for inconel
(4) Sheath Diameter
select from:
M15
for 1.5 mm
M30
for 3.0 mm
M45
for 4.5 mm
M60
for 6.0 mm
(5) Junction Type
select from:
Nothing(leave field blank)
for Pt100 probes
U
for Insulated junction for thermocouple probes
(6) Probe Length
select from:
600
for 600 mm
450
for 450 mm
300
for 300 mm
150
for 150 mm
(7) Process Thread
select from:
Nothing(leave field blank)
for R1/2 (1/2" BSPT)
-G4
for G1/4 (1/4" BSPP)
-G2
for G1/2 (1/2" BSPP)
Note: All combinations may not be valid, check spec sheet for valid part numbers.