High Performance Pressure Transducer Rugged All Stainless Steel Construction
PX309/PX319/PX329/PX359 Series General Information Page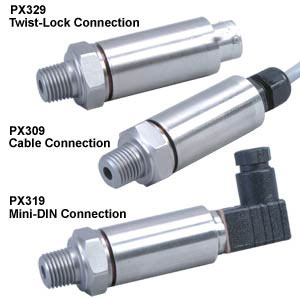 PX309 Series High Performance Pressure Transducer
£141.00 PX309-100GV
High Performance Pressure Transducer with 5-Point NIST Traceable Calibration Included
FAST DELIVERY! Stock to 1-Week!

Low Pressure Ranges: 0-1, 0-2 & 0-5 psi
Engineered Ranges from 0-1 to 0-10,000 psi
Rugged All Stainless Steel Construction
Gauge or Absolute Pressure
Electrical Outputs include millivolts, 0-5 VDC & 4-20 mA
High Stability, Low Drift
0.25% Static Accuracy Typical
IP 65 Protection Class
Now Available with M12 Connector, Order Model PX359
(See Part Number Builder at bottom of page)
Four styles to choose from
PX309 Cable Connection
PX319 DIN Connection Style (mating connector included)
PX329 Twist Lock Connection (mating connector sold separately)
PX359 with M12 Connector (mating cables sold separately)
Pressure Transducers - View related products
Description
Find how a Pressure Transducer works on this link or how we can customize your Pressure Sensor.

The pressure transducer of the OMEGA's PX309 uses two state-of-the-art silicon technologies. Pressure ranges below 100 psi use a high-accuracy silicon sensor protected by a fluid filled stainless steel diaphragm. Ranges 100 psi and above use high-accuracy silicon strain gauges molecularly bonded to the stainless steel diaphragm. Both systems provide a rugged sensor with high accuracy and excellent long term stability.

The PX309 is also available in metric configurations, with ranges from 0-70 mbar to 0-700 bar and G 1/4 (1/4"BSPP) metric fitting. Please see the PXM309 for complete details, or contact our Sales department for more information.


COMMON SPECIFICATIONS
Long-Term Stability (1 Year): ±0.25% typical
Typical Life: 10 million cycles
Operating Temperature: -40 to 85°C (-40 to 185°F)
Proof Pressure:
All psia and <50 psig Ranges: 3x capacity or 20 psi, whichever is greater
100 psig Ranges: 2x capacity
Burst Pressure: 500% of capacity or 25 psi, whichever is greater(exclusive of fitting)
Response Time: <1 ms
Shock: 50 g, 11 ms half-sine
Vibration: ±20 g
Protection Class: IP 65
Wetted Parts: 316 SS for all psia ranges and 1 to 50 psig; 17-4 PH SS for ranges 100 to 10,000 psig
Pressure Port: 1/4-18 MNPT
Electrical Connections:
PX309: 1.5 m (5') 3-conductor cable
PX319: 9.4 mm Mini DIN connector with mating connector included
PX329: Twist-lock connector, mating connector sold separately (PT06V-10-6S)
PX359: M12 connector, mating connector sold separately (P002414-1 or P002414-2)
Weight:
PX309: 154 g (5.4 oz)
PX319: 100 g (3.5 oz)
PX329: 100 g (3.5 oz)
PX359: 100 g (3.5 oz)


Cable Model PX309 is featured in the Place Order Table below. To order other models see the "Part Number Builder" below the "Place Order" table.
† All amounts shown in EUR, GBP, or USD

Note:
Download the specifications on the entire product line here or for on-line ordering and details on each output see the links in Related Products below or use the Part Number builder below on this site:
PX309-100MV for mV/V output models
PX309-5V for 0 to 5 Vdc output models or
PX309-MA for 4 to 20 mA output models.

Part Number Builder
Build Your Part Number Below
Option Descriptions:
(1) Electrical Connection
select from:
0
for 1.5 m (5') Cable
1
for micro-DIN Connector
2
for Twist-Lock Connector
5
for M12 Connector
(2) Pressure Range
select from:
for
ABSOLUTE PRESSURE005A
for 5 psia
015A
for 15 psia
030A
for 30 psia
050A
for 50 psia
100A
for 100 psia
200A
for 200 psia
300A
for 300 psia
for
GAUGE PRESSURE001G
for 1 psig
002G
for 2 psig
00 5G
for 5 psig
015G
for 15 psig
030G
for 30 psig
050G
for 50 psig
100G
for 100 psig
150G
for 150 psig
200G
for 200 psig
300G
for 300 psig
500G
for 500 psig
1KG
for 1000 psig
2KG
for 2000 psig
3KG
for 3000 psig
5KG
for 5000 psig
7.5KG
for 7500 psig
10KG
for 10000 psig
(3) Output
select from:
V
for mV/V Output
5V
for 0 to 5 Vdc Output
I
for 4 to 20 mA Output
Note: All combinations may not be valid, check spec sheet for valid part numbers.