OMEGA has developed a
modular pressure sensor system
that allows customers to quickly and easily specify a
pressure sensor
with the exact specifications required for their application. A custom designed assembly area and automatic test and calibration system avoid the long delays typically found in ordering a custom pressure sensor. Delivery times under 1-week are common with our system and quality is 100%. Each sensor is supplied with a 5-point NIST traceable calibration certificate done at time of shipping.
What is a custom pressure sensor?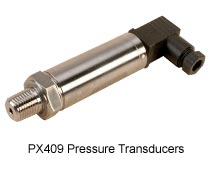 Omega's MM Series
custom pressure sensor
combine the flexibility of over 1-million possible combinations with fast delivery. They are built around Omega's new revolutionary state of the art piezoresistive silicone technology. A full wheatstone bridge is diffused into a silicon wafer and then micro-machined to exacting standards to produce a silicon sensor that has excellent stability, linearity, and long term stability for a pressure sensor. The silicon wafer is diced into individual silicon pressure sensors which are then mounted into a core module, a thin layer of oil and a stainless steel diaphragm isolates the silicon from the process media. This core module is available in gage pressure (relative) or absolute pressure. The modules are run through an automated test system (ATS) which sets linearity, and thermal coefficients for each module. The sensor core is combined with electronics and a sensor assembled into a fully welded stainless steel case and fully tested pressure sensor before delivery.
What are the customizations available for the pressure sensor?
The incredible flexibility of the piezoresistive, micro-machined silicon core module allows users to specify virtually any parameter that influences the operation of the pressure sensor.
These include:
Pressure Type
Gage, Sealed Gage, Absolute, Compound Gage, Barometric, Vacuum and wet-dry or wet-wet Differential pressure transmitters
Input Range and Units
Pressure sensor ranges can be scaled for virtually any units with ranges as low as 10 inches of water up to 5,000 psi. Typical units available include psi, bar, mbar, kPa, inH2O, ftH2O, inHg plus the Barometric ranges are available in hPa or mmHg or other specified units.
Output
Current, 4-20 or 0-20 mA are common but customer ranges are also available; 0-5 or 0-10 Voltage and 3 or 10 mV/V outputs are most popular plus any range within those ranges.
Accuracy
Select the accuracy that best fits your application with industrial accuracies from 0.4% and 0.2% down to laboratory grade accuracies of 0.05% and 0.03%. Trim pots are available as an option so the pressure sensor can be dialed in to exactly match a customers needs.
Process Fittings
More than a dozen process fittings are available to connect the sensor easily to any process. Both Imperial (American) and metric fittings are available plus several sanitary and clean in place (CIP) fittings.
Temperature Compensation Ranges
Choose from several different temperature compensation ranges. Temperature compensation ranges from industrial grade of 20 to 140*F to premium grade -40 to 220*F plus special aerospace ranges up to -60 to 260*F.
Thermal Accuracy
Because of the extreme stability of the silicon core, thermal accuracies are specified across the compensated range. Standard thermal accuracy is 0.5% with a premium grade of 0.3%.
Electrical Termination
Available with cable, cable with conduit fitting, twist lock connector, mini-DIN, and pins with glass-to-metal seals terminations. The twist lock connector and pin terminations are available in hermetically sealed versions for the highest environmental protection.
Other options
A host of other options are available including various agency listings and, shunt cals, potentiometers and custom calibrations. In the future, materials other than Stainless steel will also be available.
How long does it take to manufacture the custom pressure sensor?
Our target is to be able to deliver up to 10 of any configured model in 10 days or less. Depending on the quantity and the specifics of the design, typical delivery for a custom pressure sensor is one to two weeks. In a push we can deliver it even sooner, same day or next day for small quantities.
Is there a price premium for the custom pressure sensor?
There is a fixed price schedule for all of the configurations. Some of the selections carry additional charges, and are noted at the time of choice. The modularity of the Omega Silicon sensor system allows us to offer over 1 million possible combinations quickly and with no set-up charges or premiums for fast delivery.
How can I specify and order a custom pressure sensor?
Use our
Pressure sensor Configurator
to specify your exact sensor. The Configurator will guide you through the process of specifying a pressure transducer. Typically the process will take less than a few minutes to complete. At the end the process the Configurator will provide a part number, price and delivery time for the pressure sensor. You can then order online or contact any of our sales agents to place an order. The Configurator is easy to use and allows you to experiment with various options. You do no not have to log in or provide personal information in order to use it, and no commitment to purchase.