Pt100 Probe with Pot Seal and Spring Strain Relief
£28.50 PR-11-2-M60-150
Class A accuracy PT100 elements as standard
European curve element , Alpha = 0.00385, standard
Semi-flexible sheath available as (-MI) option
Many configurations available from stock
1/3 DIN and 1/10 DIN options available
Traceable calibration available (extra charge)
Manufactured by Omega in the UK
2,3 and 4 wire versions can be ordered
pt1000 version also supplied
Thermocouples and RTDs - View related products
Description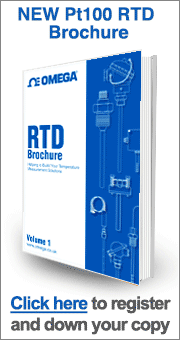 Learn more about RTDs.

These durable RTD probes feature a BS EN60751:1996 Class A accuracy PT100 element with a stainless steel sheath, terminated with a pot seal and spring strain relief with 1 metre of PFA-insulated 7/0.16mm stranded lead wire. The standard probes have a rigid stainless steel tube sheath and have a measurement range of -50 to +250°C.


These probes are also available with a mineral insulated (MI) cable sheath which is semi-rigid and may be formed to shape to suit many applications. The MI sheathed probes have the additional benefit of an extended measurement range of -196 to +650°C (Class A tolerance -50 to +300°C only).


Standard construction of either style is 3-wire. For pricing of 2 or 4 wire configurations and 1/3 or 1/10 DIN accuracy elements, contact our sales department.

Custom sheath and lead-wire lengths are also available. See the pdf product specification sheet for details on how to order.



Part Number

Measurement
Range

BS EN60751:1996
Accuracy Class

Sheath
Length mm

Sheath
Construction

PR-11-2-(*)-150

-50 to +250

A

150

Tube

PR-11-2-(*)-300

300

PR-11-2-(*)-600

600

PR-11-2-(*)-150-MI

-196 to +650

A†

150

MI Cable

PR-11-2-(*)-300-MI

300

PR-11-2-(*)-600-MI

600
*Specify: M15, M20, M30 or M60 for sheath diameter in 1.5, 2.0, 3.0 or 6.0 millimetres respectively.
†Class A tolerance over the range -50 to +300°C only.



Examples of pricing for popular models is referenced in the "To Order" box. Use the "Part Number Builder" below to get pricing for other available models.
† All amounts shown in EUR, GBP, or USD
Note: †Class A tolerance over the range -50 to +300°C only.
Ordering Example: (1) PR-11-2-M60-150 Pot-Seal Style PT100 Probe, 3-Wire Construction, 6mm Diameter Rigid Stainless Steel Sheath 150mm Long. With 1m Lead Wire, £28.50
Part Number Builder
Build Your Part Number Below
Option Descriptions:
(1) Probe Diameter (Sheath)
select from:
M15
for 1.5mm
M20
for 2.0mm
M30
for 3.0mm
M60
for 6.0mm
(2) Probe Length
select from:
150
for 150mm
300
for 300mm
600
for 600mm
(3) Construction
select from:
for tube leave blank
-MI
for MI Sheath
Note: All combinations may not be valid, check spec sheet for valid part numbers.