Pt100 & Thermocouple for Industrial, airsteam and laboratory Applications
£46.50 P-M-A-6-100-0-TS-2
Pt100 in Class A, 1/3 DIN or 1/10 DIN
Pt1000 in Class A, B or 1/3 DIN
Thermocouples Type J, K, T, N. Accuracy IEC Class 1
Closed End or Airstream style Sheaths
Standard Lengths up to 500mm
Diameters of 3 or 6mm
Wide Range of Lead Wire Materials
Industrial Probes Individually Pressure and Insulation Tested
Thermocouples - View related products
Description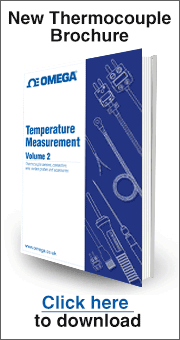 Learn more about thermocouples.


Omega's temperature probes for industrial and laboratory applications are produced with a wide variety of sheath styles and mechanical fittings suitable for a range of measurement conditions.


They may be specified to your precise requirements by the sensor type in either a closed-end or air-stream style sheath, accuracy, probe length, different threads, wire material in screened and un-screened versions.

The available options are summarised in the table below and the most popular temperature probes are listed for purchase in the to-order table below that. For other models please use the pdf data sheet to construct a part number for a industrial temperature sensor suitable for your specific requirements and use the "Order By Part Number" table, or contact our sales department.



Probe Options - See data sheet for full details and pricing
Sensor Type
Style
Accuracy
Sheath Diameter
P = Pt100
P10 = Pt1000
J = Type J Thermocouple
K = Type K Thermocouple
T = Type T Thermocouple
N = Type N Thermocouple
M = Closed Sheath
L = Airstream Sheath
H = Hand-Held Probe
EH = Hand-Held Probe with Penetration Tip

Pt100: (4 wire)
A = Class A
1/3 = 1/3 DIN
1/10 = 1/10 DIN

Pt1000:
B = Class B
A = Class A
1/3 = 1/3 DIN

Thermocouple:
1 = Class 1
6 = 6mm
3 = 3mm

Sheath Length
Mounting Bush
Lead Wire Insulation
Or Connector
Wire Length
5-25 mm
26-50 mm
51-200 mm

0 = No Thread
M6 = M6x1
M8 = M8x1
M10 = M10x1

G1/8 = 1/8" BSPP
G1/4 = 1/4" BSPP
G1/2 = 1/2" BSPP


M12 - M12 Plug. No Cable
T - PFA (250°C Max.)
G - Glass Fibre (400°C Max.)
GS - Fibreglass with SS overbraid.(6 mm ∅ sheath only)
TS - PFA with internal tinned copper braid. (6 mm ∅ sheath only; 200°C Max.)
XM - Cable Length in metres
Length of Threads - M6 (6mm), M8 (9mm), M10 (10mm), G1/8 (10mm), G1/4 (12mm), G1/2 (15mm).
† All amounts shown in EUR, GBP, or USD