Pt100 & Thermocouple for Industrial, airsteam and laboratory Applications
£39.50 P-M-A-6-100-0-TS-2
Pt100 in Class A, 1/3 DIN or 1/10 DIN
Pt1000 in Class A, B or 1/3 DIN
Thermocouples Type J, K, T, N. Accuracy IEC Class 1
Closed End or Airstream style Sheaths
Standard Lengths up to 500mm
Diameters of 3 or 6mm
Wide Range of Lead Wire Materials
Industrial Probes Individually Pressure and Insulation Tested
Thermocouples - View related products
Description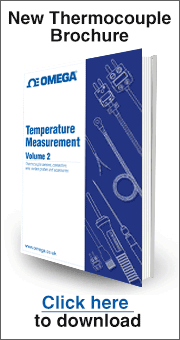 Learn more about thermocouples.


Omega's temperature probes for industrial and laboratory applications are produced with a wide variety of sheath styles and mechanical fittings suitable for a range of measurement conditions.


They may be specified to your precise requirements by the sensor type in either a closed-end or air-stream style sheath, accuracy, probe length, different threads, wire material in shielded and unshielded versions.

The available options are summarised in the table below and the most popular temperature probes are listed for purchase in the to-order table below that. For other models please use the pdf data sheet to construct a part number for a industrial temperature sensor suitable for your specific requirements and use the "Order By Part Number" table, or contact our sales department.



Probe Options - See data sheet for full details and pricing
Sensor Type
Style
Accuracy
Sheath Diameter
P = Pt100
P10 = Pt1000
J = Type J Thermocouple
K = Type K Thermocouple
T = Type T Thermocouple
N = Type N Thermocouple
M = Closed Sheath
L = Airstream Sheath
H = Hand-Held Probe
EH = Hand-Held Probe with Penetration Tip

Pt100: (4 wire)
A = Class A
1/3 = 1/3 DIN
1/10 = 1/10 DIN

Pt1000:
B = Class B
A = Class A
1/3 = 1/3 DIN

Thermocouple:
1 = Class 1
6 = 6mm
3 = 3mm

Sheath Length
Mounting Bush
Lead Wire Insulation
Or Connector
Wire Length
5-200mm
201-500mm

0 = No Thread
M6 = M6x1
M8 = M8x1
M10 = M10x1

G1/8 = 1/8" BSPP
G1/4 = 1/4" BSPP
G1/2 = 1/2" BSPP


M12 - M12 Plug. No Cable
P - PVC
S - Silicone
T - Neoflon® FEP
G - Glass Fibre
PS - PVC Screened
TS - FEP Screened
GS - Glass Braided
XM - Cable Length in metres
Length of Threads - M6 (6mm), M8 (9mm), M10 (10mm), G1/8 (10mm), G1/4 (12mm), G1/2 (15mm).
† All amounts shown in EUR, GBP, or USD