Pt100 & Thermocouple Assemblies with DIN B Head, for Industrial Applications
Pt100 in Class A, 1/3 DIN & 1/10 DIN available
Thermocouples Type K, T, J and N. Accuracy IEC Class 1
Sheath Lengths of 20 to 500mm as Standard
Sheath Diameters of 6, 9, 11 and 15mm
Wide Range of Process Fittings/Threads
DIN Form B Protection Head Standard, Many Others Available, See pdf
Optional Head Mount Transmitters
Probes Individually Pressure and Insulation Tested
Thermocouples - View related products
Description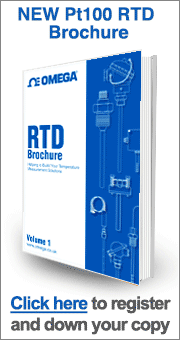 Omega's industrial protection head temperature probes are offered in 3 different mechanical constructions and with many options and fittings, making them suitable for a wide range of applications.

The following may be specified at time of order: sensor type; fixed, replaceable or mineral insulated construction; accuracy class; diameter; insertion and lagging lengths; process fittings and optional head-mount transmitter.

The available options are summarised in the table below and the most popular models are listed for purchase in the to-order table below that. For other models please use the pdf data sheet to construct a part number for a sensor suitable for your specific requirements and use the "Order By Part Number" table, or contact our sales department.


Probe Options - See data sheet for full details and pricing
Sensor Type
Internal Construction
Accuracy
B-P = Pt100
B-J = Type J Thermocouple
B-

K

= Type K Thermocouple
B-

T

= Type T Thermocouple
B-

N

= Type N Thermocouple
F = Fixed Sensor Element
G = Replacement Pt100 Element
M = Mineral Insulated Element
Pt100:
A = Class A
1/3 = 1/3 DIN
1/10 = 1/10 DIN Thermocouple:
1 = Class 1
Diameter
Length
Threaded Fitting
Transmitter
6 = 6mm
9 = 9mm
11 = 11mm
15 = 15mm
20-200mm
201-500mm
0 = No Thread
M18 = M18 x 1.5
G1/4 = 1/4" BSPP
G1/2 = 1/2" BSPP
R1/4 = 1/4" BSPT
R1/2 = 1/2" BSPT
Analogue Transmitter:
TX-PT100 for Pt100
TX-TC for Thermocouple
Please state scaling required
† All amounts shown in EUR, GBP, or USD