Low Cost, General Purpose PT100 Probes with Heat-Shrink Transition From Stainless Steel Sheath to Lead. 3 and 4 wire versions.
£25.00 PR-10-2-M60-150-ST
PT100 Probes with BS EN60751 Class A Elements
3 & 4 Wire Configuration (2 wire optional)
Leads Terminate with Stripped Wires
50, 100, 150, 300, 450 Probe Lengths Standard
Shrink Strain Relief at end of sheath (rated 100c)
Optional 1/3 and 1/10 DIN versions (consult sales)
Pt1000 version also available
Traceable calibration can be ordered (extra charge)
Custom sheath and lead wire lengths are optional
RTD (PT100)  Probes, Elements and Assemblies - View related products
Description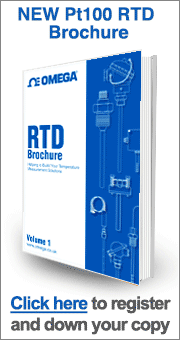 Find how a Pt100 works on this link.



These budget PT100 probes have excellent accuracy, with a BS EN60751:1996 Class A element fitted inside a rigid stainless steel tube sheath, terminated with heat shrink tubing (rated 100c) and 1 metre of PFA-insulated 7/0.16mm stranded lead wire.

They are a very low cost option for general purpose use up to 250°C. The basic design also makes for a very compact probe for use where space is limited.

This construction is not as durable as our PR-11 style probe, which uses a metal pot-seal transition and spring strain relief for the lead-wire.



Custom sheath and lead-wire lengths are also available. See the pdf product specification sheet for details on how to order.
Part Number

Measurement
Range

BS EN60751:1996
Accuracy Class

Sheath
Length mm

Sheath
Construction

PR-10-2-(*)-150-ST

-50 to +250°C

A

150

Tube

PR-10-2-(*)-300-ST

300

PR-10-2-(*)-450-ST

450
*Specify: M30, M45 or M60 for sheath diameter in 3.0 or 6.0 millimetres respectively.


Examples of pricing for popular models is referenced in the "To Order" box. Use the "Part Number Builder" below to get pricing for other available models.
† All amounts shown in EUR, GBP, or USD
Note: 4 wire configuration may be ordered for 6mm or 4.5mm diameters; ask Sales for price and availability.
Ordering Example: (1) PR-10-2-M60-150-ST PT100 probe, 3-wire configuration, 100 ohm class A element, 6mm dia. 150mm long SS sheath with 1m PFA-insulated leads terminating in stripped ends., £25.00
Part Number Builder
Build Your Part Number Below
Option Descriptions:
(1) Probe Diameter
select from:
M30
for 3mm
M45
for 4.5mm
M60
for 6mm
(2) Sheath Length
select from:
100
for 100mm
150
for 150mm
300
for 300mm
450
for 450mm
600
for 600mm
(3) PFA Lead Length
select from:
Nothing(leave field blank)
for 1 metre
-2M
for 2 metres
-3M
for 3 metres
-5M
for 5 metres
Note: All combinations may not be valid, check spec sheet for valid part numbers.